Hot from Vegas and Interbike, pics of the new Bandersnatch featuring a disc only rear triangle with replaceable derailleur hanger and clearance for 3.0 tires and beefier construction all around (not to mention a dead sexy color).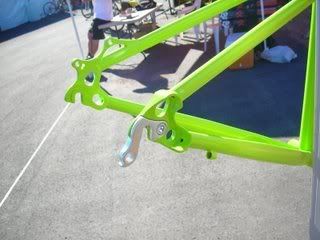 Still to come is the Chupacabra, Vassago's new singlespeed endurance race weapon (I can't wait!!!)
Three new treads from Wilderness Trail Bikes for 29'ers are the Stout, Vulpine and Prowler.
Stay tuned for more.......................................