Last Saturday at beautiful Steele Creek Park in Bristol, TN a showdown between the roadies of the Tri-Cities Road Club and the mountain bikers of the Northeast Tennessee Mountain Bike Association brought out the best of both clubs in a day long free-for-all to see who would take home the Tri Cities Cup for 2007.
Perhaps still stinging from their defeat in 2006, the roadies rallied their troops and came out in impressive numbers and at the end of the day, they ripped the cup from the cold, dead fingers of the defeated mountain bikers who could only drop their heads in shame.
I know because I fought the good fight and was bested by men in tights.
Fresh (or not so fresh) off of a five week tour that saw me in two cross races, a 40 mile enduro and two 12 hour races in consecutive weekends, I showed up at the venue and got to work warming up with teamate and training partner Bob Lamberson. Wearing the green colors of NTMBA instead of my familiar black and red Vassago stuff, I felt kinda funny for a minute but soon got past that as me and Bob hit some singletrack to warm up.
At the starting line, we lined up with Pro Andy Applegate, his Pro wife Cara and several red jerseys from TCRC. My legs felt good and I had a secret weapon in my 34X17 gearing I slapped on the night before to give me an edge on the long straights in the Dwayne Letterman designed course. We got underway and I immediately stuck to as close to the front as possible. It's always amazing to me how fast pros ride. For the first half lap or so, I could say I was in contact with the leaders but in reality, I was burning fuel like a Saturn V rocket on a trip to anaerobic hell. I backed off after the first lap and settled in behind Mike Mefford.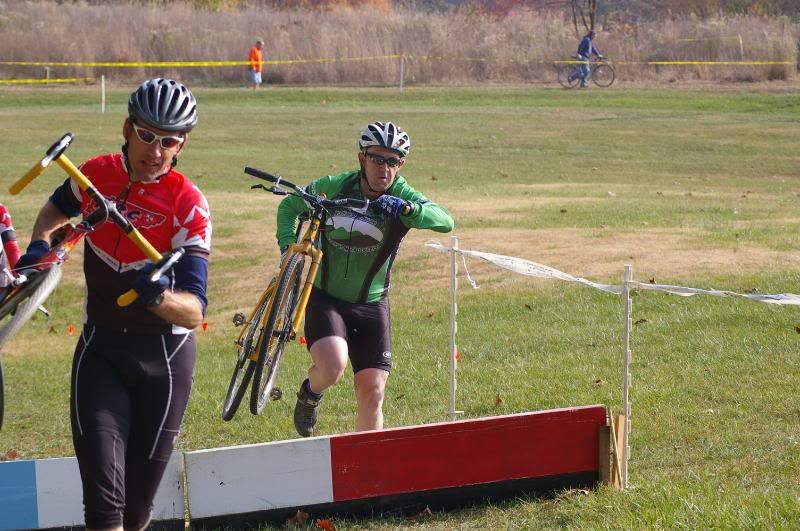 The laps were looong and tough. My secret weapon was doing me more harm than good methinks as I was laboring mightily on one certain climb that seemed to never end. By lap 3, I faded more and found myself right behind Cara and just ahead of Bob and my buddy Alan Sparks.
The pain train was rollin' and for the moment I was conducting but in real danger of checking out things in the caboose. Towards the end of lap 3, I tripped over a barrier like a dork and land right on top of the next one. Pain seared my thigh and I felt the blood leaving my body but I didn't have time to look. I picked my bike up and got back on just in time to see Alan stalking me like a dog (Bob already passed me). I tried to dump Alan but saw that that wasn't going to work so I went to plan B, wait it out and outsprint him.
That didn't work either and I ended up finishing 8th.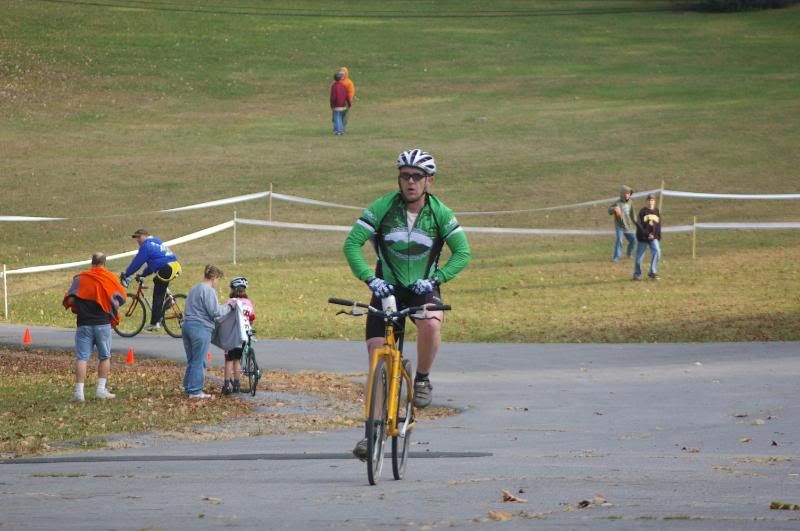 My leg hurt but that didn't really end up being to bad after I got it cleaned off.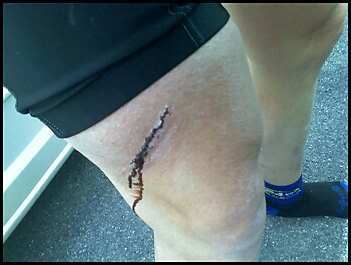 It was a good race and now for a couple of weeks rest and recuperation before the final two rounds of the series to be held Dec 1 and Dec 8 in Johnson City.
Many thanks to Bart Nave and Wes Lamberson for the pics, to the 6 guys and one girl that finished ahead of me for the ass-whipping, to Dwayne, Eric and all the MSG Volunteers for putting on a great race ( and for the break-away barriers) and especially my sponsors: Vassago, WTB, White Bros, Bike 29 and Cane Creek.
Y'all are great.
Until next year you roadie dogs..............