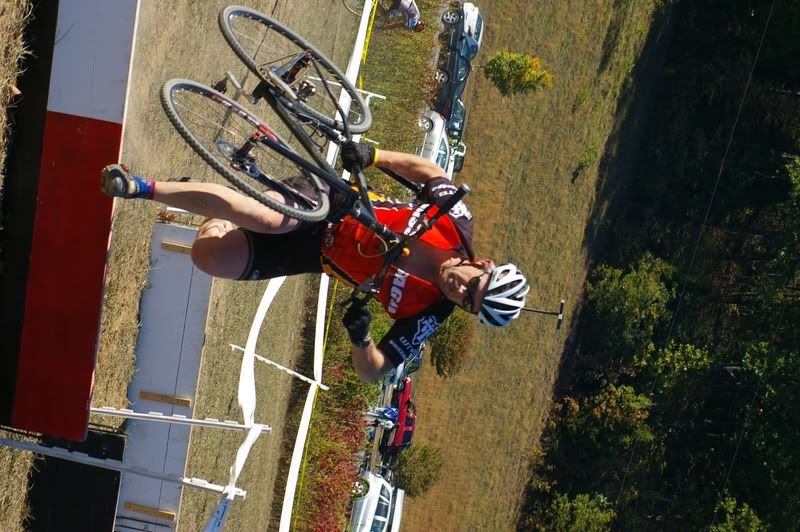 Round #2 of the MSG Cross Series rolled into Johnson City's Winged Deer Park Saturday and it was also a stop in the Redline Cup O' Cross Tour which brought more people than normal out. That's a good thing.
After last Saturday's disaster, I made sure I had everything I'd need to race : bike, shoes, shorts, jersey....I wasn't going to make the same mistake twice. After round one, I was sitting in 3rd place for the series and this being a double points race, I was hoping for a good result.
After warming up and getting a good look at the course which featured 2 sets of barriers, some really tricky off-cambered stuff and a 40 foot sand pit that had already claimed a few victims, I was excited.
I made sure I got to warm up this week.
My excitement soon faded somewhat when we lined up and I see Andy Applegate (a really fast pro) and a few fast roadie friends of mine - Mike Mefford and Michael Walters among the others including series leader Todd Braswell. This was going to be a tough one. Another interesting point was my son Nathan was starting his very first cross race just in front of me. Yep the singlespeeds run with the kids. Make of it what you will.
Go little buddy!!
I gave Nathan a few last minute instructions and saw him off. I was proud. Next it was my turn. I lined up in the front like I always do and waited for the word. It came and we were gone.
I am a big Duck in a little pond.
The first lap was really fast and it didn't take long for the order to be established. Going into lap 2, I was in about 4th place and over the first set of barriers, I trip like a big Dork and fall down. I kinda rolled back up on my feet and only lost one spot so it wasn't so bad. I eventually got passed by both Mikes and my buddy Alan Sparks by the midpoint in the race. My heartrate had been pegged since go and I was really suffering. I decided to try and limit my losses and gear up for a last lap attack on whoever was close to me.
I am really killing myself to dump my buddy. That's what friends are for.
Heading towards the end of the next to last lap, I roll up behind Alan and attack him on the climb that led to the finish line. I really buried myself to seal the deal lest he had any thoughts of a counter. It worked out and I finished 6th and moved into 2nd in points in the series OA.
Did that hurt?
Nathan finished 7th in the kids race and was talking about the next one on our way home. He's hooked I think. I was proud.

Off to change my Jabberwocky from Cross bike to Endurance bike and load up for Blacksburg and the second race of the weekend - the Rowdy Dog.
I only learned about this race about a week before from Vassago Team Manager - Misty (thanks Misty, I think) and teamate Kevin Clark. I thought it would be good for my training for the Treeshaker especially since I had not had a long off-road ride since the Fool's Gold race in August. I got the tires and gear changed on the bike and loaded up the Jeep for a 0330 wake-up call. I was on the road to pick up my buddy and partner in pain, Bob Lamberson and his son Wes by 0430. Wes was due back from a band competition about that time and I soon learned the bus he was riding broke down somewhere on the interstate. We went and found him at a truck stop along I-81. What luck.
Kevin, Me, Jeremy, Bob and the other guys
.
In Blacksburg, we hooked up with Vassago teamates Jeremy Arnold and Kevin Clark and quickly got down to business. It was damn cold. Our start time was 0930 for the 50 mile (shortened to 40) XXC race where all other classes started at noon. My plan was simple - ride. Do the time and not get hurt. I kinda forgot that when we started and Kevin and Jeremy took off like a couple of convicts in a crackhouse raid. About 5 miles into the virtually all singletrack course, I was way down in my pain cave already. I stopped myself and reminded me of what I was doing there. It was tough but I had to stick to my plan. My body was having a hard time adjusting to the rigors of all-out, WFO for 30 minutes cross racing to chugging like the little engine that could for ever and ever endurance racing. My legs didn't know what to do for awhile.
The first hour or two were really tough for me.
There were plenty of rock gardens filled with baby head sized rocks all the way up to microwave sized rocks.
Metamorphic Rock: Formed under extremely high temperatures and pressure over millions of years. Exceptionally durable and hard.
Duck Flesh: Formed under moderate to low heat and pressure over about 9 months. Susceptible to cuts and bruises. Underlying bones break easily when subjected to rocks at medium to high velocity.
Yep given all that, I played it safe and went on a 5 hour training ride. The course was brutal. There was no place to relax it was either short, grunt climbs or fast sometimes technical rolling stuff that demanded your attention. I started to get bored about the time I started running into traffic from the later starting races. It kept me sane for the last hour of the race.
From a race standpoint, I didn't do so hot - 8th place (out of 9 or 10) but from a what I went up there for in the first place standpoint it was all aces. I rode well, never crashed and didn't get hurt.
My teamates Kevin and Jeremy finished 3rd and 4th respectively, Bob got 6th. I think we all had a great time.
I had fun.....................................