I just came off of a weekend full of racing for Kingsport's Funfest. Three days wide open racing began with the Tour De Possum Creek on Saturday, The Kingsport Crit on Sunday and the Mountain Bike Rally at Bays Mtn on Monday.
The Tour De Possum Creek (TDPC) course was a little different this year with a slew of short, steep climbs in the first 25 miles. Not my strongpoint. The challenge was to complete the 43 mile course in under 2 hours. I lined up on the very front with all the local fast guys. I don't consider myself a fast guy but I always line up at the front to stay out of trouble. 500 bikes and riders of different skill on narrow SW Virginia roads is a good recipie for disaster and I didn't want to get caught up in a crash, especially with ORAMM coming up.
I stayed with the lead group over 3 of the 5 numbered climbs. We were averaging about 25 mph and I knew my time there was limited. On the 4th climb, I sat up and did my own thing for the rest of the race. I hooked up with my buddy David and we found a group to ride with. Nobody wanted to work in that group which kinda sucked - we could have gone better. It's all good though. On the climb up to the finish, I threw in the rest of my cookies and outsprinted all but 3 of the chase group.
Yeah, I sprinted for 57th @2:08. Oh well, it was fun.
The Crit on Sunday was a little more sucessful. Held on a dead flat 1 mile course in downtown Kingsport, it was fast. I lined up with all the other Cat 5's (technically I am a Cat 4 but I don't road race anymore except for special events and I don't have Cat 4 fitness so I race on one-day licenses.) I reckoned we had about 30.
As soon as we got the disclaimer from the USA Cycling official, we were off. I fumbled with my pedal for about 40 feet (that never happens) and ended up sprinting hard to get to the front before 30 rabid, lycra wearing cyclist hit the first turn - a 90 degree left hander. It went well and we had a pretty textbook race for awhile.
That is until the next to last lap when going into the first (and what I thought was the nastiest) turn my buddy Larry (second from left in the pic) crashed really hard nearly taking out Alan (far left in the Maxxis jersey) who would go on to pip me for the win.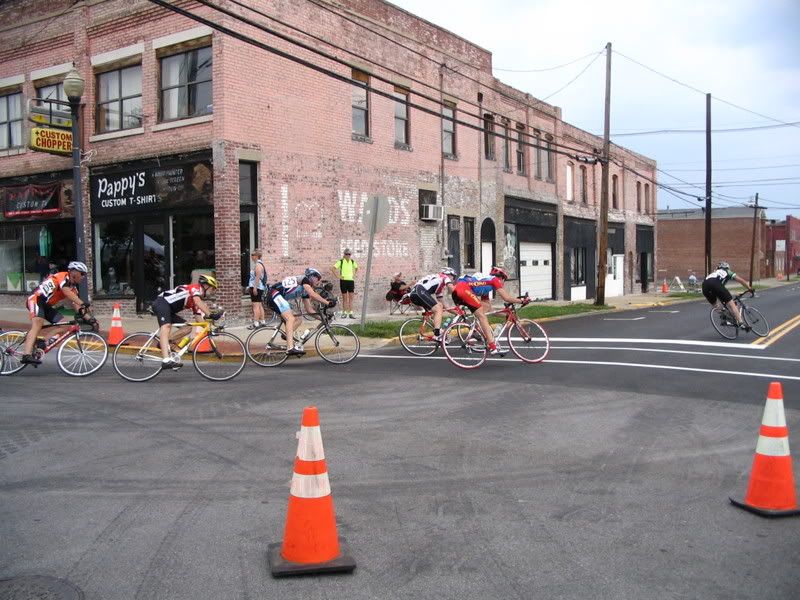 In the sprint, I got on the wrong wheel and ended up 2nd (behind Alan) in 40+ and 6th OA. I was happy with that.
On Monday's Mountain Bike Race, I was tired. I was also on a new, unfamiliar bike - my Vassago Jabberwocky, that I had just got buit up a couple of days before. The race was dominated by local roadie hammerheads as the course is all fire roads and not very technical at all (except for one eroded downhill). I had a couple of adjustment issues that I had to take care of (that's what I get for not getting to ride my new bike much before the race) and that cost me time.
Even still, I ended up 4th in my class and 18th OA. Right behind my teamate's son Wes who has just jumped over to the singlespeed dark side this year. He has been getting stronger for several years and will be a real hammer if he keeps going , oh he's only 15.
After all that, I needed rest. I had some bigger fish to fry in 6 short days.