So far for 2008 my racing results have kinda left me a little worried and wondering WTF is going on with me. I built a nice base over the winter and have had some really strong training rides this spring. I didn't do so well at the Icycle back in February and I DNF'd the Cohutta 100 a few weeks ago (granted the Icycle was in the middle of base building - I had no high end fitness and at the Cohutta I had Strep.)
When I showed up at the 12 Hours of Tsali feeling kinda good, I tried not to think to much about it or anything else so as not to cast any bad mojo on the weekend. I got 5th there last year and this year I was hoping for better things.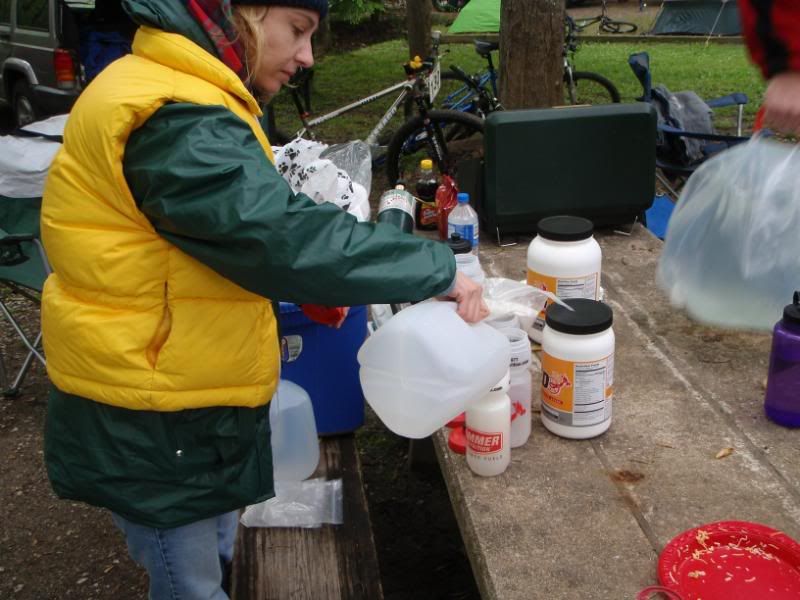 Nancy preparing about 6 hours worth of fuel.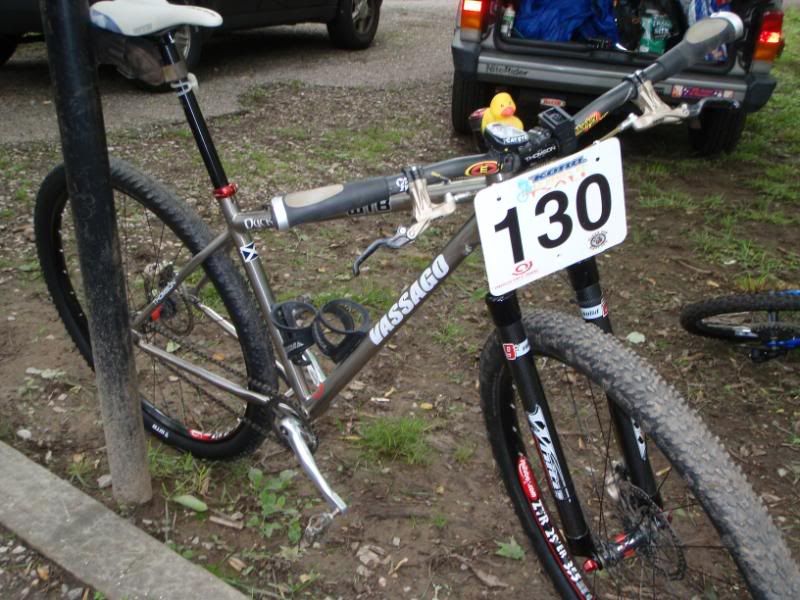 Ready for Battle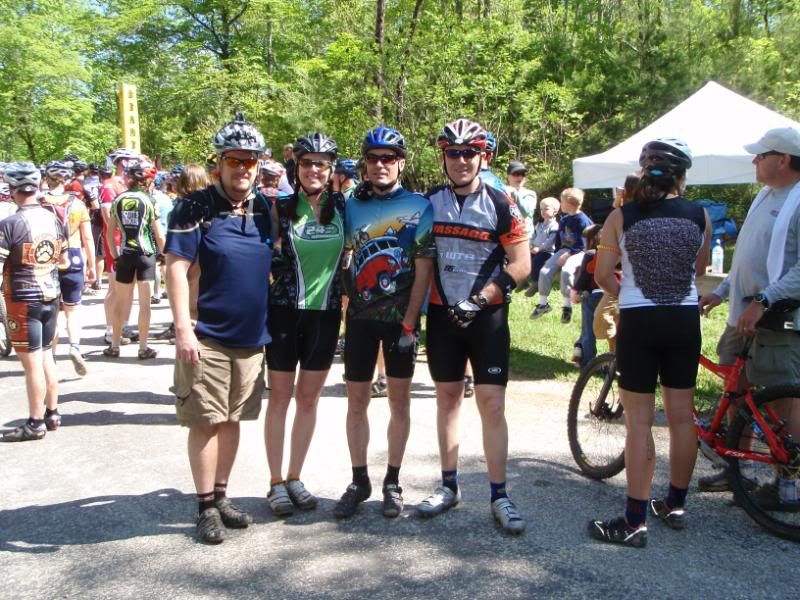 Some of my NTMBA homies (Brandon, Anet, Bob and me)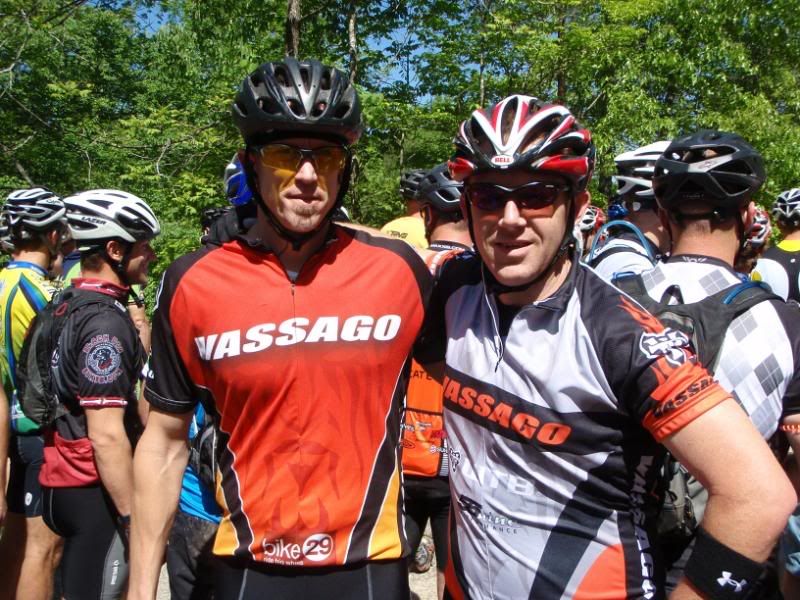 Vassago Teammate Chris Davis.


At 11:00 we lined up for the lovely
Le Mans
start - 1/4 mile run uphill to where our bikes awaited us. It is no secret I hate running so I enriched all that were around me with my pre-LeMans start bitching and complaining. Soon enough though, it was over and we were riding. The first two laps were fast and I climbed pretty much everything including some stuff I should have walked (in the context of a 12 hour race, just because you can climb something doesn't mean you always should) and spent a fair amount of time riding with Chris. A funny thing happened on lap 2 when my contact popped out of my eye on a rocky descent and while I was trying to get it back in Chris rolled up behind me with a stick wedged in his cassette. Here was both Vassago team riders having issues in the middle of the trail. We both got it sorted out and on we went.
I was kinda worried about my choice of tires - a
WTB Weirwolf
front and a
WTB Vulpine
rear, when the rain came on Friday. The Weirwolf is minimally treaded and the Vulpine is almost a semi-slick. Not much for muddy traction but they roll really good on dry hardpack. Luckily I had enough karma built up that the places that were still wet didn't give me a problem. Karma being what it is however, kinda left me somewhere between my 3rd and 4th laps. Up until that point, my buddy Bob Lamberson was leading, a kid from Florida (also on a
Vassago Optimus
) was in second and I was in third. We were all on the same lap and only a few minutes apart. First I lost a screw out of one of my cleats. Luckily Chris had one and got that problem solved but then I started feeling not so good.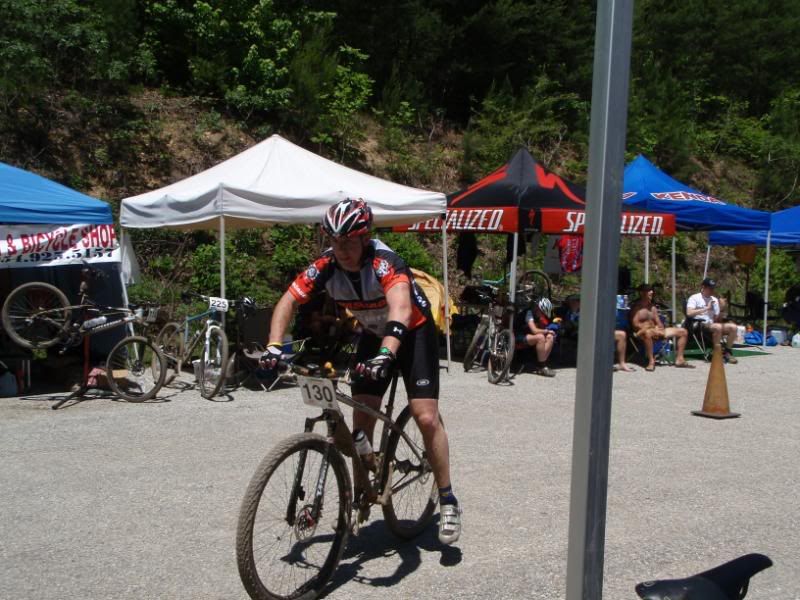 I had been coming in and going back out with only a bottle change. I would empty one bottle per lap and have a couple of shots of gel per lap. I started to slow down and was feeling a little sick. I stopped climbing everything and began to walk some of the really steep stuff but that wasn't enough. At the end of lap 4 I ate a PB&J sandwich and had a Coke. That made me feel a little better but still not great. I did one more lap and then stopped for awhile and ate some Spaghetti. I have been trying to use mainly a liquid diet and in training it has worked ok but in racing it isn't doing so hot. I was sick as a dog and had almost nothing in my legs.
Not good.
While I sat there, I saw that Bob and the guy from Fla were about to pass me and put a lap on me. There wasn't much I could do about it. Then Chris came in and told me that he passed the guy in 4th place (in singlespeed solo) and he was coming in pretty soon. This got my attention when I realized I pissed away the 40 minute buffer I had over 4th and just then he came in so that made us even at that point. I got up and left real quick and instructed my support crew to keep an eye on him. The spaghetti actually helped me and for the next few laps, I felt good, er, well I felt better anyway. I came in after my 7th lap and got the report. The guy in 4th came in 20 minutes behind me after 6 laps and spent about 10 minutes in his pit before going out. Chris told me earlier that he didn't look so good on the trail so I felt a little more confident. Still, there was time he could use to make up ground. I wasn't going to catch 1st and 2nd unless catastrophe
struck so I set out on my 8th lap to seal the deal on 3rd place.
I was feeling much better then and It was dark. I always ride good in the dark. My Ipod served me up some smoking music to keep me motivated and also some lighter stuff to keep me chilled on the climbs. It would give me something from Dave Matthews or Coldplay to climb to and then some Metallica, Godsmack or AC/DC to descend. It was perfect. At the top of the final climb (well the final big climb), Queen's Fat Bottom Girls starts playing and I knew this was going to be special. (Fat Bottom Girls for me dates back to
Dr Skip's Medicine Show
days. It's a song that brings back memories).
I ripped the next mile and half rolling section like there was no tomorrow. After Fat Bottom Girls came Welcome to the Jungle, then Bodies, Stupify by Disturbed and finally Thunderstruck by AC/DC. At the end of the fast flowy part, you have a half mile climb to the finish and I did that to the tune of Aerosmith's Train Kept Rollin' (another DSMS theme song). I felt great. Little did I know that that was my fastest lap of the day and I now had about an hour over 4th place.
I was done.
Yeah, I was happy - and damned tired.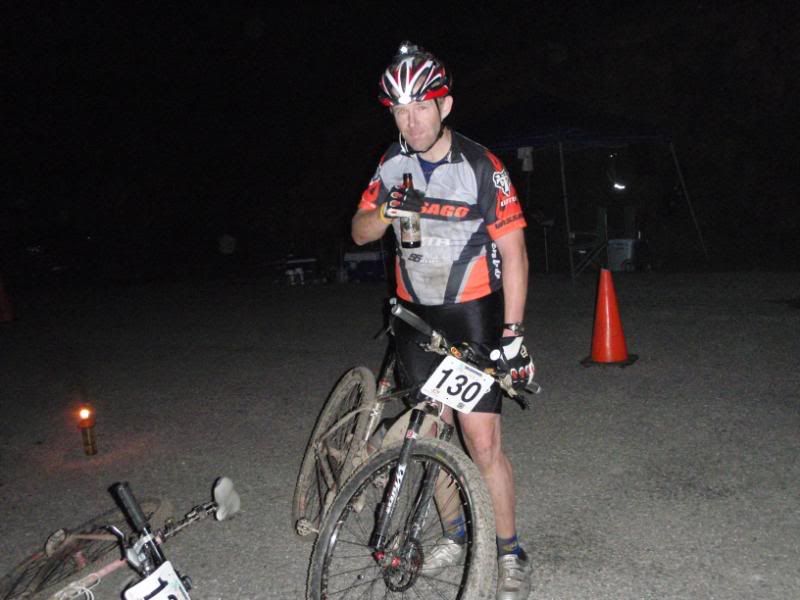 Not too tired to drink a beer (or two)


In my clumsy post race stupor, I spilled my beer.


So I did the noble thing. Spilling beer is a major faux pax.


Damn, you didn't take a picture of that did you?


A little while later Bob came in and he and the kid from Florida rode the last lap together and called a truce on the race since either one could have forced one more lap. They played rock, paper, scissors for the win (I'm not kidding). Bob got second and the kid from Florida won.
It was a long, hard, painful day and a total blast.
Many, many thanks to my wife Nancy for all the help she gave me all weekend, to the guys and girls from NTMBA that are a hoot to hang out and race with, and to Misty, Kris and all the folks from Vassago - the bike rocked!
Congratulations to all the teams and solo riders from NTMBA, (I lost track of how y'all did but good on ya for hanging in there) and to Chris Davis who got 7th (I think) in Male Solo.
Big congrats to the KHS team on which Bob's son Wes is a member. They won the overall in Open Money (again). Good on ya.